Braising is my favourite cooking method. I just love the way it can transform an inexpensive, tough cut of beef into a tasty tender stew. Toss in the earthy flavours of root vegetables and aromatic red wine, and you are well on your way to a rich flavour base. But the real secret to a truly memorable beef stew is patiently browning the meat.
Yield: 4 to 6 servings
Ingredients
2 pounds (1 kg) of stewing beef
A sprinkle or two of sea salt and freshly grated pepper
A splash of any vegetable oil
A few carrots, peeled and roughly chopped
A few stalks celery, roughly chopped
A few potatoes, peeled and roughly chopped
A few parsnips, peeled and roughly chopped
A few onions, peeled and roughly chopped
A 28 ounce (796 mL) can of whole tomatoes
1/2 bottle or so of hearty red wine
3 or 4 cups (750 mL to 1 L) of homemade or canned beef broth
A few bay leaves
A few sprigs fresh rosemary
1 jar of pickled baby white onions, drained
A few handfuls of frozen peas
Another sprinkle or two of salt and pepper
Procedure
Preheat a large thick-bottomed pot over medium-high heat.
Meanwhile, pat the beef dry with a clean towel and then cut it into large cubes and season it with the salt and pepper.
Add a splash of oil to the potenough to cover the bottom in a thin layerand toss in enough meat to form a single sizzling layer. Sear the meat on every side until it's evenly browned.
Be patient when you're browning the meat; it takes a little time but it's worth every minute. The caramelized flavours are the secret to a rich hearty stew. As the meat browns, remove it from the pan, adding more oil and meat as needed.
Once the meat is done, discard the remaining oil but keep all the browned bits in the pan; they'll add lots of flavour to the stew.
Add half of the vegetablesreserving the other halfand all the meat back to the pot. Add the tomatoes and enough wine and beef broth to barely cover the works. Add the bay leaves and rosemary and bring the pot to a simmer.
Continue cooking until the meat is almost tender, about 1 hour, then add the remaining vegetables, the baby onions and the frozen peas. Adding the vegetables in 2 batches allows the first batch to dissolve into the stew while the second retains its shape, colour and texture. Continue simmering until the meat and veggies are tender, another 30 minutes or so. When the stew is tender, taste it and season as you like with salt and pepper.
Variation
You may use any combination of root vegetables you have on hand. You may use any cut of beef that's labelled for stewing, simmering or braising. Try using fresh thyme instead of rosemary. You can also stir in several sliced green onions at the last second for a burst of colour and flavour. Shredded aged cheddar cheese or tangy blue cheeses are a great topping for each bowl.
8 years ago
You don't need a fire blazing in the backyard or a fancy barbecue to cook a great steak. Pan-roasting works well too, especially if you start with a great steak, use lots of butter and finish with browned onions.
View Recipe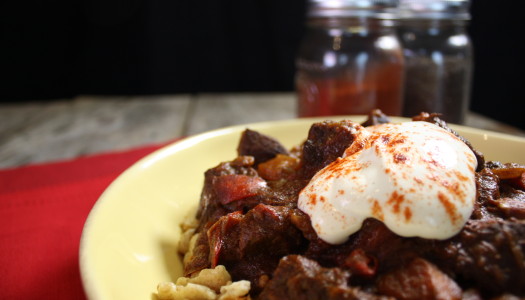 3 years ago
This is one of the great beef stews of the world. It's a uniquely Hungarian dish that's half way between a soup and a stew. While in Hungary, I learned a couple of things. First, that every cook has a different version of this recipe and second, that everyone believes their version is the most authentic. So to me, that means all versions are authentic as long as they contain Hungarian flavours.
This recipe is dedicated to the memory of Ann Szemba, my Hungarian friend who traveled with me to Hungary and taught me this dish.
View Recipe