This is the classic Pesto Genovese featuring basil, pine nuts and Parmesan. It's a perfect accompaniment for white meats, fish or pasta. Because the word 'pesto' simply means 'paste' you can use many different ingredient combinations to make this tasty condiment.
Yield: About 1 Cup
Ingredients
A few large handfuls fresh basil
1/2 cup or so grated Parmesan or Romano cheese
A few handfuls pine nuts
A generous splash extra virgin olive oil
A sprinkle or two Salt and Pepper
Procedure
Toss everything into a food processor and puree until smooth.
The olive oil's job is to help get everything spinning in the food processor. Because it also adds flavour, this is a good place to use your very best oil.
Variation
Toss in a few garlic cloves for pungent strength. Try experimenting with different herb, cheese and nut combinations such as mint, goat cheese and pistachio, or sage, goat cheese and walnut.
4 years ago
This is how a gin and tonic is crafted at our place; our cool, cool summer sipper. My wife, Chazz, is famous for her refined version of the classic backyard cocktail. How do you improve local artisanal gin distilled passionately with aromatics and botanicals from around the world? With local aromatics and botanicals freshly muddle into this crisp new classic.
View Recipe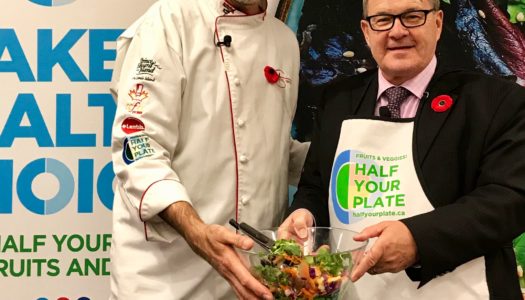 7 months ago
You can fill more than Half Your Plate and create your own salad with this recipe. Chefs know that the art and craft of filling a salad bowl is one of the greatest expressions of the culinary arts. Home cooks love how easy it is to cram the salad bowl with healthy flavours. Everyone enjoys emptying the bowl. You'll love knowing you have plenty of delicious dressing leftover for the next salad and nothing beats impressing yourself in your own kitchen! This one was custom created by Honorable Lawrence MacAulay with Chef Michael Smith's coaching!
View Recipe