When I toss romaine hearts into my shopping cart, chances are I'm heading home to make my family's favourite salad. Every cook should know the joy of crafting a true Caesar salad while avoiding the also-ran dressings at the supermarket that never quite measure up to the real thing. Over time we've experimented with lots of additional flavours in this salad but, more often than not, I toss in lots of fresh basil leaves and brightly flavoured cherry tomatoes. What a great way to fill Half Your Plate!
Yield: SERVES 4 TO 6
Ingredients
For the croutons
1 baguette, cut into large bite-sized cubes
1/4 cup (60 mL) of water
1/4 cup (60 mL) of your best olive oil

For the dressing
6 thick slices of bacon, finely cut
1/4 cup (60 mL) of extra virgin olive oil
1/4 cup (60 mL) of Dijon mustard
4 cloves of garlic
a full 2-ounce (50 g) can of anchovies
the zest and juice of 2 lemons
1 tablespoon (15 mL) of honey
a dash or two of your favourite hot sauce
For the salad
3 hearts of romaine lettuce, rinsed and sliced into bite sized pieces
1 large bunch of basil leaves
2-ounces or so of Parmigiano-Reggiano, shaved into thin pieces with a vegetable peeler
1 pound of cherry tomatoes, sliced in half
Procedure
Preheat your oven to 375ºF. Turn on your convection fan if you have one.
Begin with the croutons. Sprinkle the bread cubes with water and toss until evenly absorbed. Continue tossing with the oil until it too is absorbed. Spread the works out on a baking tray and bake until the croutons are crispy, crunchy and thoroughly golden brown, 20 to 30 minutes. Remove and cool while you prepare the rest of the salad.
Make the dressing. Toss the bacon and a big splash of water into a pan over medium-high heat. Cook, stirring frequently until the bacon is fully browned and evenly crispy, 10 minutes or so. Strain off the bacon bits and reserve for garnishing. Reserve all, some or none of the tasty fat.
Measure the oil, Dijon, garlic, anchovies, lemon zest and juice, honey and hot sauce into your blender or food processor. Add the reserved bacon fat. Purée until smooth.
Make the salad. In a large salad bowl toss together the romaine leaves, basil leaves, croutons and tomatoes. Pour in the dressing and toss the works until the salad is evenly dressed. Top with the bacon and Parmigiano-Reggiano.
Serve and share!
© Chef Michael Smith – #HalfYourPlate
Variation
You can easily elevate this salad into an entire meal by adding lots of your favourite protein. Try grilling off a few chicken breasts and thinly slicing them into the works. A filet or two of salmon, grilled steak, pork tenderloin, even chunks of tofu can be added for a full protein kick.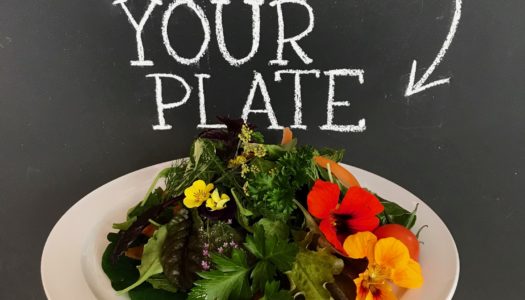 5 months ago
There are many, many ways to serve up healthy vegetables but perhaps none as easy or versatile as a classic salad. Here's how to transform a few simple ingredients into a memorable salad that will easily fill more than Half Your Plate with homemade goodness!
View Recipe
4 years ago
This is my favourite way to toss together the amazing flavours of a Niçoise salad and skip the traditional fussy arrangement of the ingredients. My kids aren't big fans of visible anchovies and don't know that they're hidden in the powerfully flavoured dressing loaded with tangy lemon, bright parsley and aromatic basil. They just know they love this salad and I love that it's a whole meal in a bowl!
View Recipe