Forget fancy. Here's a simple way to make a quick tasty omelet for breakfast, lunch or dinner, complete with bacon and cheddar. Don't be scared by the flip, you'll miss a few but quickly get the hang of it!
Yield: Makes 1 but perfect for sharing
Ingredients
3 eggs
2-3 slices bacon, chopped
1/2 cup so of cheddar cheese, shredded
1 green onion, thinly sliced
sprinkle salt and lots of freshly ground pepper
splash water
Procedure
Preheat your favourite skillet over medium high heat and toss in the bacon and a big splash or two of water. As the water evaporates it will help the bacon cook, render and crisp evenly. While the bacon is cooking, whisk together the eggs, cheese, onion, salt and pepper in a separate bowl. For a light, fluffy omelet the secret is to add a splash of water to the mixture; it will burst into fluffy steam as the omelet cooks.
Add the egg mixture to the pan and stir quickly as the mixture starts to firm. Keep cooking until the eggs set and form a loose omelet shape, in a minute or two. Get ready for the flip. Hold the pan firmly in your hand. Dip the far edge as low as you dare then with a quick flick flip the omelet up and over. Catch it and relax. There's no shame in using a spatula (or two) either! Cook the second side until the omelet cooks through, another minute or two. Deftly fold your creation onto a plate to serve and share.
Chef Michael's Kitchen
© Chef Michael Smith
Variation
Freestyle Twist: Add a twist by switching up the cheese and herb combinations in your omelet. Try tarragon and boursin (French cream cheese), oregano and parmesan or dill and feta. It's your omelet and your choice!
7 years ago
There are few things more comforting in the kitchen than an old-school batch of mac n' cheese. Ooey gooey goodness. Perfection—almost—I mean have you ever added bacon to your mac n' cheese?
If your house is anything like mine, they've already smelled the bacon and are lined up, waiting to share!
View Recipe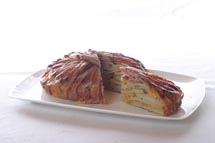 8 years ago
I've been making this dish for a long time. It's a bit involved but it remains one of the most impressive potato dishes I know. This special occasion treat features the classic trio of potatoes, bacon and cheddar. It will take you a while to make, but the results are more than worth it. It's the sort of thing that looks complicated until you try it and quickly realize how simple it is to master.
View Recipe