This is one of my favourite salads! It's loaded with bursts of Asian flavour that give it a ton of fusion character. It tastes exotic but its flavours are still very comfortable.
Yield: 4 Servings (Vinaigrette 2 Cups)
Ingredients
6 ounce bag baby spinach leaves
A few, thinly sliced sheets nori seaweed
A few, thinly sliced candied giner
1/2 cup rice wine vinegar
A cup vegetable oil
A few heaping spoonfuls honey
A heaping spoonfuls or two miso paste
A small knob grated ginger
A few dashes seame oil
A dash soya sauce
Procedure
For the Salad:
Toss the spinach, mint, nori seaweed and ginger with a generous splash of the dressing. It's as simple as that.
For the Vinaigrette:
Mix everything together until smooth vinaigrette forms. A blender, food processor or an old-fashioned whisk and bowl all work well but I prefer my immersion blender. It's easier to clean up!
7 years ago
Sometimes the best thing you can do in a kitchen is get out and go for the grill. Here's how to create a simple bed of grilled goodness to anchor a warm salad. All with an easy twist to create a double duty marinade/dressing and jazz it all up.
View Recipe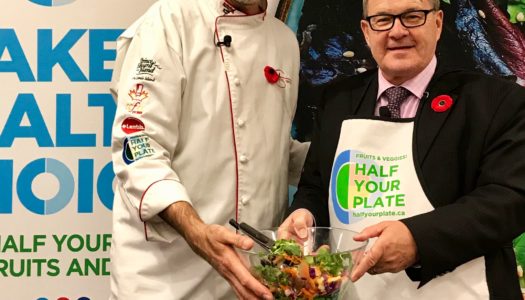 1 year ago
You can fill more than Half Your Plate and create your own salad with this recipe. Chefs know that the art and craft of filling a salad bowl is one of the greatest expressions of the culinary arts. Home cooks love how easy it is to cram the salad bowl with healthy flavours. Everyone enjoys emptying the bowl. You'll love knowing you have plenty of delicious dressing leftover for the next salad and nothing beats impressing yourself in your own kitchen! This one was custom created by Honorable Lawrence MacAulay with Chef Michael Smith's coaching!
View Recipe