Pumpkins are not just for carving into pretty faces they're vegetables, so you can eat them too! As members of the squash family they're deliciously versatile, inexpensive and packed with nutrients. Your best choice for cooking though are not the various jack-o-lantern varieties, they tend to be too big and bland. Instead, try this simple yet stunning idea with a few mini decorative pumpkins during harvest. With all this seasonal flavour they're a great way to fill Half Your Plate!
Yield: Serves 4
Ingredients
4 mini pumpkins
2 to 3 cups (500–750 mL) of your favourite applesauce
a few sprigs of minced fresh thyme, tarragon or rosemary
a sprinkle or two of salt
lots of freshly ground pepper
1 cup (250 mL) of raw pumpkin seeds
2 slices of rye or multi-whole grain bread
2 tablespoons of olive oil
Procedure
Preheat your oven to 350ºF. Turn on your convection fan if you have one.
Use a serrated knife to slice off the top of each pumpkin exposing the seed-filled hollow within. Scoop out and discard the seeds. Lightly season the interiors with salt and pepper. Stir together the applesauce and thyme and stuff each pumpkin.
In your food processor briefly grind the pumpkin seeds, bread and olive oil. Process just long enough to coarsely chop the works. Top each pumpkin with a pile of the mixture. Bake until tender and delicious, about 1 hour. Serve and share!
Kitchen Tips
These stuffed pumpkins are an excellent side dish for roast turkey or any other seasonal main course. If you like you can have them for dessert too. For a sweet treat drop the fresh herb and topping. Instead, just add a pat of butter to each one before baking.
© Chef Michael Smith – #HalfYourPlate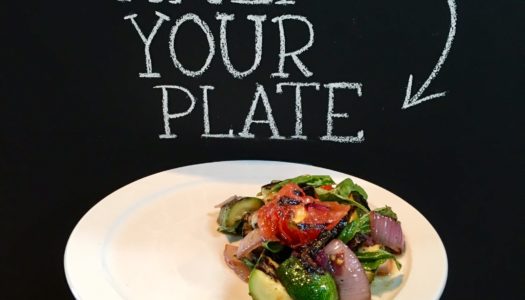 2 years ago
Zucchini is the perfect summer vegetable for filling Half Your Plate. Not only is it seasonally fresh, packed with flavour and nutritionally dense but it's simple to grill. Its firm texture easily handles the heat while absorbing lots of delicious charred flavours. This side dish is equally delicious hot off the grill or chilled for later making it ideal for grilling season.
View Recipe
3 years ago
When I toss romaine hearts into my shopping cart, chances are I'm heading home to make my family's favourite salad. Every cook should know the joy of crafting a true Caesar salad while avoiding the also-ran dressings at the supermarket that never quite measure up to the real thing. Over time we've experimented with lots of additional flavours in this salad but, more often than not, I toss in lots of fresh basil leaves and brightly flavoured cherry tomatoes. What a great way to fill Half Your Plate!
View Recipe