Who said baking a homemade dessert has to be difficult? Not me. This dessert could not be simpler and is fully customizable. It has 2 basic parts - the apple filling and the oatmeal topping. Choose any type of apple (or a combination), your favourite fresh or frozen berry, and any of the baking spices. Ginger, nutmeg, allspice, cloves, or simply cinnamon all work.
Yield: Serves 4 to 6
Ingredients
For the fruit filling
6 large or 10 medium apples, unpeeled, cored and cut into chunks
2 cups (500 mL) of your favourite berries, fresh or frozen
1/2 cup (125 mL) of sugar
1/4 cup (60 mL) of flour
The zest and juice of half a lemon
1 teaspoon (5 mL) of your favourite baking spice
For the crisp
1 cup (250 mL) of flour
1 cup (250 mL) of rolled oats
1 cup (250 mL) of brown sugar
1 teaspoon (5 mL) of freshly ground nutmeg
1/2 cup (125 mL) melted butter
To finish
Your favourite vanilla ice cream
Your favourite granola
Procedure
Preheat your oven to 375°F (190ºC). Turn on your convection fan if you have one. Lightly oil a 9 by 13-inch pan.
In a large bowl toss together the apples, raspberries, sugar, flour, lemon juice and zest and the baking spice of your choice. Transfer to your baking pan. Whisk the flour, oats, sugar and nutmeg together, then add the melted butter and crumble together with your fingers. Sprinkle evenly over the fruit. Bake until golden brown and bubbly, 45 to 60 minutes.
Scoop the ice cream out into balls, roll in the granola and serve alongside spoonfuls of warm crisp.
© Chef Michael Smith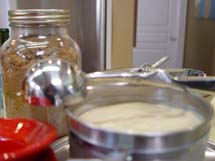 49 years ago
4 years ago
Fruit baked under a topping is delicious and so is fruit baked in the topping. Easier too. Just mix the works together into one tasty jumble. Half fruit, half crumble, all easy. Locally delicious too, especially during the seasonal sweet spot when your local strawberries line up with longer-season fresh rhubarb. Make the most of this classic good cop/bad cop duo contrasting sweet and tart personalities!
You can create this dessert with any of the season's berries. Unless you have strawberries fresh from your backyard or the local farmer's market though, use frozen strawberries for the best flavour. Fresh from away is a waste of time. Just saying.
View Recipe