Every fall when locally grown squash and apples appear in the farmers market I make this dish. It shows how well ingredients that grow together go together. That's why it tastes so good!
Yield: Makes four sides
Ingredients
2 acorn squash
1 cup or so applesauce
2 spoonfuls Butter
sprinkle Salt and Pepper
Procedure
Preheat your oven to 350 degrees F.
Cut the squash in half and scrape out the seeds. Place skin side down, cut side up in a baking dish. Add a large spoonful of applesauce to the center of each one and top with a pat of butter. Season with salt and pepper.
Add a splash of water to the pan then slide into the middle of your oven. Bake until golden brown and caramelized, about an hour or so. Enjoy!
1 month ago
Leeks are milder cousins of the onion with a sweet neutral texture that absorbs any flavour and complements everything on your plate. They're a long cylinder of bundled leaves, easy to cook and a deliciously simple way to fill Half Your Plate.
View Recipe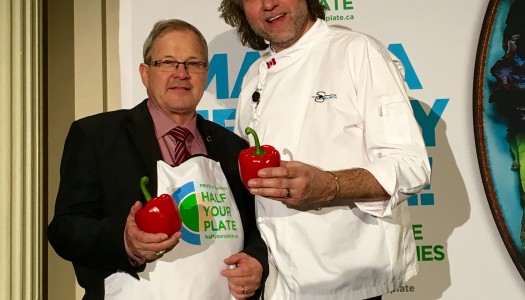 3 years ago
One of the best ways to fill Half Your Plate (and all of your soup bowl) is with a simple pureed soup. They're a time-honoured and super-simple way to get a whole lot of vegetable flavour on the table in a hurry – maybe even hide vegetables from finicky eaters. This one was custom created by the Honourable Lawrence MacAulay with Chef Michael Smith's coaching!
View Recipe