New Contest
Win a day with Chef Michael Smith!
New Book
I love creating healthy hearty flavours for my family but life doesn't slow down for cooking so my new book Fast Flavours features all the time saving tips and speedy tricks I've discovered in my cooking career!


Order Here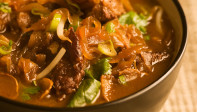 Beef stews are a part of cooking all over the world. Cooks everywhere know they can simmer tough, inexpensive cuts of meat in a flavourful liquid then fill their bowls with a rich tender stew. My family loves this "Asian" version ladled over spinach leaves and bean sprouts. It's a stew and a s ...