Our new Food Network Series is now airing.
Join Chef Michael Smith as he goes back to basics while stirring in freestyle ideas along the way.
Lentils are healthy, tasty, inexpensive, easy to cook, easy to find and Canadian farmers grow the very best in the world. Check out this menu of webisodes and their recipes, I'm sure they'll inspire your family to enjoy lentils as much as we do!
More videos about lentils »
Keep in touch
Book Number 7
Chock full of mouth-watering photography to inspire, Back to Basics is Michael's simple approach to cooking basics that he wants to share with every home cook. Once you understand the basics behind a recipe, you can then stir your personality into your cooking. You'll see how easy it is to impress family and friends in your own kitchen. And, once you know the basic rules, you can break them. You'll never get stuck making a dish just one way!


Order now
Amazon
Chapters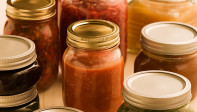 Commercial chocolate sauces are a pale imitation of the real thing and usually don't include any real chocolate. An old-school batch of real chocolate sauce is easy to make, easy to use and an easy way to saturate any treat with lots of rich, true, chocolate flavour. Try not to eat too much of thi ...