Pork Applesauce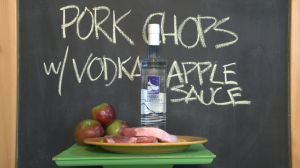 Pan-Roasted Pork Chops with Vodka Applesauce
Today's mainstream pork is very lean, so it can dry out very quickly as it cooks. The trick to tender pork chops that stay moist and juicy is a simple two-step cooking method. Begin cooking with high heat, then finish, covered, with low heat. Pork always goes well with apples so a batch of savoury applesauce with a twist will complete your feast!
Serves 4
For the applesauce:
1/4 cup of olive oil
2 onions, peeled and thinly sliced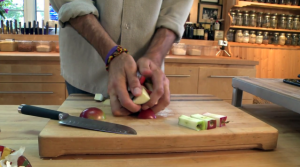 4 cloves of thinly sliced garlic
4 of your favourite apples, cored and cut into chunks
2 tablespoons of apple cider vinegar
1 heaping teaspoon of dry sage, thyme, rosemary or tarragon
a sprinkle or two of sea salt and freshly ground pepper
For the pan-roasted pork chops:
4 thick centre-loin pork chops, patted dry
1 tablespoon or so of any vegetable oil
a sprinkle or two of sea salt and freshly ground pepper
1/4 cup of Prince Edward Distillery Potato Vodka
For the applesauce, heat the oil in a small saucepan. Add the onions and patiently cook them, stirring occasionally until they're caramelized and golden brown. Add the apple chunks, apple cider vinegar, your choice of herb and salt and pepper. Stir well. Simmer until the apples soften, 3 or 4 minutes. Serve warm, or refrigerate and serve chilled.
For the pork chops, preheat a large sauté pan over medium-high heat.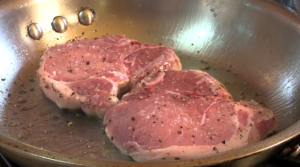 Splash in enough oil to cover the bottom of the pan with a thin film. Season the chops with salt and pepper and carefully place them into the hot pan. Sear for 2 minutes or so on each side. Reduce heat to medium-low, cover creating a small oven and cook for another 5 minutes or so.
Remove the lid and, away from the heat, pour the vodka into the pan. Tilt the pan away from you and hold the lower, farther edge near the flame until it ignites. Swirl for a moment or two as the flame subsides. Remove and reserve the pork chops.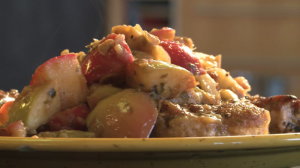 Add the applesauce to the pan and stir until the vodka and pan drippings are incorporated. Alternatively if you'd rather not ignite anything in your kitchen simply remove the pan from the heat, add the vodka and applesauce and stir until mixed. Serve and share!