Oyster Martini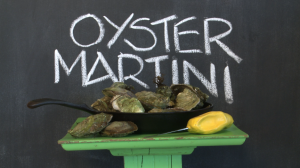 Oysters can be enjoyed au natural, with some lemon, or all dressed. It does not matter if you are enjoying it on a boat, in a restaurant or in the comfort of your home, when preparing oysters you have many options. Some like to enjoy it straight from the shell, others maybe with a splash of lemon juice, vinegar, or hot sauce, that is the great thing about oysters they are just plain good – anytime. If you want to impress your friends with little effort, why not add some style to your oyster presentation with serving oyster martinis.
For preparation, you'll need:
– Wooden cutting board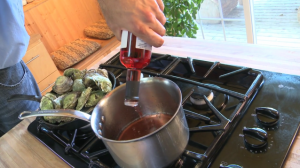 – Knife
– Large platter
– Ice
– Oyster knives
– Four martini glasses
What you'll need:
– 2 dozen PEI Malpeque oysters, largest available
– 1 bottle of PEI Potato Vodka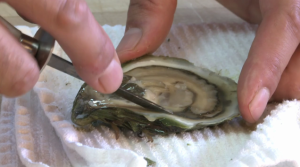 – 2 large red onions
– 1 cup (250 mL) of sugar
– 1 cup (250 mL) of red wine vinegar
– A bunch of fresh dill
– 1 box coarse sea salt
– Salt and pepper
Start by making the pickled red onion relish, which yields approximately 2 cups. Slice the onions as thinly as possible. You may find it useful to first slice them in half and lay them on their cut side before slicing them further. Cram the sliced onions into a large Mason jar. Pour the sugar and red wine vinegar into a small pot and bring to a boil with the salt and pepper. Add the onions and continue heating just long enough to return the mixture to a simmer. Pour the mixture into the Mason jar, cover and rest overnight in the refrigerator before use. Because sugar and vinegar are such great preservatives, these pickled onions will last indefinitely in your refrigerator. They're at their best after a day or two in your fridge, once their flavours have had a chance to mature.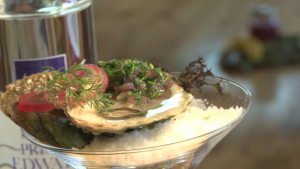 Fill vodka glasses with course sea salt and set aside. Shuck the oysters and place them in the half shell on top of salt. Pour a one ounce shot of vodka over the oyster. Garnish with a teaspoon of pickled red onion relish and a sprig of dill.