Mediterranean Mussel Pasta
Mussels are perhaps the easiest fish to cook, they need nothing other than a simple steaming to cook their meat and release the flavourful broth they contain. It's easy to stir lots of global flavours into them as well, as simple as making any sauce under the sun and simmering mussels in the sauce until they cook through. This pasta dish features an easy to make basic tomato sauce jazzed up with oregano, olives and tasty mussels!
Serves 4
1 box of your favourite pasta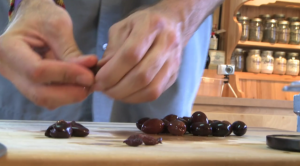 2 tablespoons of olive oil
2 chopped onions
4 to 6 cloves of thinly sliced garlic
1 28-ounce can of whole tomatoes
1 teaspoon of dried oregano
1 cup or so of pitted calamata black olives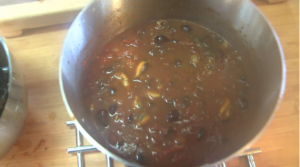 2 to 3 pounds of mussels
salt and pepper to taste
Bring a large pot of salted water to the boil then cook the pasta until tender but still chewy.
Meanwhile make the sauce in a separate pot. Splash the olive oil into a large saucepot over medium high heat. Toss in the onions and sauté until golden brown. Add the garlic and stir for a few minutes until aromatic. Add the juice from the can of tomatoes then mash the tomatoes in the can with a fork. Add the tomatoes to the sauce. Stir in the oregano and olives and bring the works to a full boil. Lower the heat to a simmer.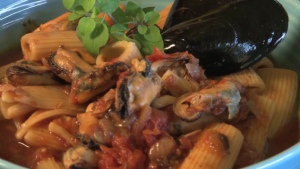 Rinse the mussels in lots of cold clear water. Drain for a moment then add to the simmering sauce. Cover with a tight fitting lid and continue cooking until the mussels open, cook through and release their flavourful broth. Discard the shells and any unopened mussels. Taste then season to your taste with salt and pepper. Stir in the cooked pasta and enjoy!