Chef on board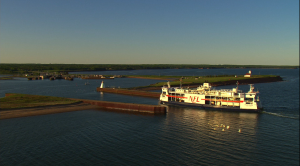 Every September Prince Edward Island celebrates the bounty of the land and sea with our annual harvest festival, Fall Flavours. If you're a foodie it's the perfect time to visit the island to both taste and experience our food. The festival features over 150 different events including farm tours, wine tastings, artisan food experiences and memorable special events. They're all unique but only one transforms the ferry MV Confederation into a floating party. Chef On Board.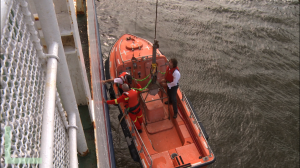 Life on an island is partly defined by your connection to the mainland. On PEI we can zip along on the worlds longest bridge over ice-covered waters but we can also take our time and enjoy an old-school ferry ride. It's the sort of thing we take for granted until a gang of pirate chefs board the ship and take over the galley!
During Fall Flavours anything goes. Why not commandeer the ferry and add a flavourful twist to the journey?
As the guests boarded the ferry they didn't quite know what to expect. They gathered on the re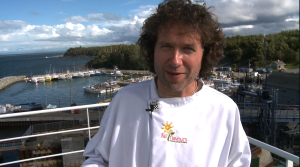 ar deck with a glass of wine from Rossignol Estates, just up the shoreline. Not a chef in sight until from around the wharf came one of the ships lifeboat launches with a familiar figure on board. The boat was winched from the sea to the deck and as Chef Michael Smith jumped off waiting to greet him was Inn at Bay Fortune chef Domenic Serio with a platter of tasty local hors d'oeuvres! That's how a party gets started.
As the ship steamed across the Northumberland Strait the guests enjoyed oysters, steamed mussels, and a menu of local favourites including pan fried white fish with butternut squash vanilla puree and ratatouille with clams. Chef Domenic kept the flavours coming and on the way back even commandeered the on-board Cows Ice Cream shop passing out treats to one and all. As the ship docked after a 3-hour journey everyone knew they had experienced something very special, a ferry ride that no-one would ever forget!