Sweet Potato Lentil Chili with Cinnamon Sour Cream
Nutrient rich lentils and sweet potato provide the perfect flavor pallet for this exciting dish. Even the biggest carnivores will not miss the meat in this "stick to your ribs" dish. Find the directions and ingredients here.
6 years ago
Utilizing the home cooks most convenient tool, the slow cooker! This recipe for a slow cooker chicken and lentil stew will be sure to fill the house with a tempting …
Read More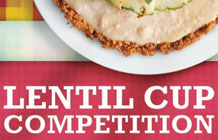 6 years ago
Three Saskatchewan chefs battle in this exciting competition on their quest to be the first ever Lentil Cup winner!