Sweet Potato Lentil Chili with Cinnamon Sour Cream
Nutrient rich lentils and sweet potato provide the perfect flavor pallet for this exciting dish. Even the biggest carnivores will not miss the meat in this "stick to your ribs" dish. Find the directions and ingredients here.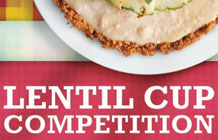 6 years ago
Three Saskatchewan chefs battle in this exciting competition on their quest to be the first ever Lentil Cup winner!
6 years ago
A close look at how to make a simple lentil puree and  a  wide variety of dishes where  it can then be the sneaky, secret ingredient  including family favourites like …
Read More