Sneaky Lentils
A close look at how to make a simple lentil puree and  a  wide variety of dishes where  it can then be the sneaky, secret ingredient  including family favourites like tomato pasta sauce and cookies – sure to be unsuspected by even the most picky eaters! Find the directions and ingredients here.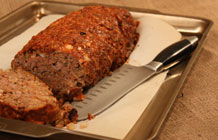 6 years ago
Everybody loves meatloaf; it's one of our all time favourite comfort foods. Especially when you know its rich hearty flavours come with a hidden nutritional powerhouse. Lentils easily stir into …
Read More
6 years ago
Join celebrity chef Michael Smith as he celebrates Food Day Canada with the winners of the cross-Canada Love Your Lentils Contest!