Lentils 101
An overview of lentil types, nutritional characteristics, cooking tips, dried vs. canned, and a recipe for Brown Rice & Lentils from The Best of Chef at Home. Find the directions and ingredients here.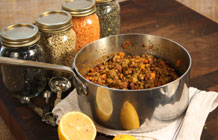 6 years ago
A sure fire way to delight the dinner table! Michael takes one of the most popular foods (bacon) and shows how to pair it with tasty green lentils. Find the …
Read More
6 years ago
Join celebrity chef Michael Smith as he celebrates Food Day Canada with the winners of the cross-Canada Love Your Lentils Contest!