Lentils 101
An overview of lentil types, nutritional characteristics, cooking tips, dried vs. canned, and a recipe for Brown Rice & Lentils from The Best of Chef at Home. Find the directions and ingredients here.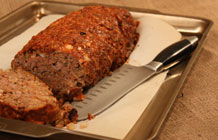 6 years ago
Everybody loves meatloaf; it's one of our all time favourite comfort foods. Especially when you know its rich hearty flavours come with a hidden nutritional powerhouse. Lentils easily stir into …
Read More
6 years ago
Join celebrity chef Michael Smith as he celebrates Food Day Canada with the winners of the cross-Canada Love Your Lentils Contest!