Lentil Cup Chef Challenge
Three Saskatchewan chefs battle in this exciting competition on their quest to be the first ever Lentil Cup winner!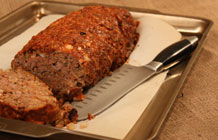 6 years ago
Everybody loves meatloaf; it's one of our all time favourite comfort foods. Especially when you know its rich hearty flavours come with a hidden nutritional powerhouse. Lentils easily stir into …
Read More
4 years ago
Join Chef Michael Smith as he travels the globe in search of the world's best lentil dishes!