Green Lentils with Bacon and Tarragon
A sure fire way to delight the dinner table! Michael takes one of the most popular foods (bacon) and shows how to pair it with tasty green lentils. Find the directions and ingredients here.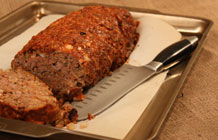 6 years ago
Everybody loves meatloaf; it's one of our all time favourite comfort foods. Especially when you know its rich hearty flavours come with a hidden nutritional powerhouse. Lentils easily stir into …
Read More
4 years ago
Join Chef Michael Smith as he travels the globe in search of the world's best lentil dishes!