Curried Red Lentil Dhal
A popular dish around the world, Dhal is one of the most traditional lentil dishes. Michael shows you how to easily adapt this dish for the dinner table, resulting in an a dish that is full of mouth-watering flavour! Find the directions and ingredients here.
7 years ago
Join celebrity chef Michael Smith as he celebrates Food Day Canada with the winners of the cross-Canada Love Your Lentils Contest!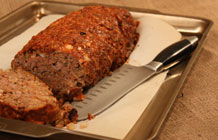 7 years ago
Everybody loves meatloaf; it's one of our all time favourite comfort foods. Especially when you know its rich hearty flavours come with a hidden nutritional powerhouse. Lentils easily stir into …
Read More