Curried Red Lentil Dhal
A popular dish around the world, Dhal is one of the most traditional lentil dishes. Michael shows you how to easily adapt this dish for the dinner table, resulting in an a dish that is full of mouth-watering flavour! Find the directions and ingredients here.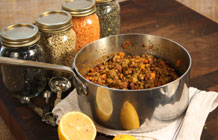 6 years ago
A sure fire way to delight the dinner table! Michael takes one of the most popular foods (bacon) and shows how to pair it with tasty green lentils. Find the …
Read More
6 years ago
Watch as Michael goes deep into the heart of Canada's lentil growing region where he experiences farm life first-hand with the Nagel Family.