In many Italian restaurants the menu term "Tuscan Beef" refers to a particular style of serving beef that is always dramatically finished at the table. An extra thick slab of premium beeflarge enough to serve at least four peopleis slowly roasted on a grill and presented to the table with a classic group of ingredients: arugula leaves, extra virgin olive oil, lemon zest and juice, shaved Parmigiano Reggiano cheese, sea salt and freshly cracked peppercorns. The meat is thinly sliced and draped over a salad of sorts. The results are authentically Italian, spectacularly delicious and a great way to satisfy your primal beef craving and show off at your next dinner party.
Yield: Serves 4
Ingredients
1- 2 pound 4-inch thick striploin
8 cloves garlic
1 tablespoon dried oregano
a few splashes premium extra virgin olive oil
a sprinkle or two sea salt and freshly ground pepper
4 handfuls baby arugula leaves
a handful or two fresh basil leaves
1 lemon, zest and juice
a large chunk authentic Parmigiano Reggiano
Procedure
Several hours before you wish to serve dinner, purée the garlic and oregano with a few splashes of the olive oil. Slather this marinade all over the steak.
When you are ready to cook, preheat your grill to its highest setting. Season the steak with salt and pepper and begin slowly grilling it. Take your time and keep an eye on the grill heat, adjusting it to prevent burning. Flip steak as it sears. Once it has browned, flip it frequently to further prevent burning. To cook a piece of beef this large well done would be criminal! It should be cooked to medium rare or rare to maximize its juiciness, about 20 minutes or more.
Once it's done, turn off the heat and rest the steak for 10 minutes or so, giving the meat a chance to relax and re-absorb all of its moisture. Premature slicing will release agitated hot moisture that is lost as juice.
As the beef grills, mound the arugula and basil leaves in the middle of a large festive platter.
Present the steak to your table on a wooden cutting board with a sharp knife. Slice it very thinly and arrange the slices around the arugula. Sprinkle everything with lots of olive oil, coarse sea salt and lots and lots of coarsely ground fresh peppercorns. You may theatrically zest the lemon over the salad, then squeeze on the juice. Last, but not least, use a vegetable peeler to garnish the works with shavings of Parmigiano Reggiano.
Order your striploin ahead of time from your specialty butcher, and ask for large one that has the bone in. A large steak takes longer to cook because it takes time for the heat to penetrate to its centre, which is, unfortunately, also enough time for the exterior to brown and potentially scorch. Use your best judgment to gauge doneness. Poking, prodding, pinching, probing, even peeking. A meat thermometer works well, but even a sneak peek at the interior is better than guessing.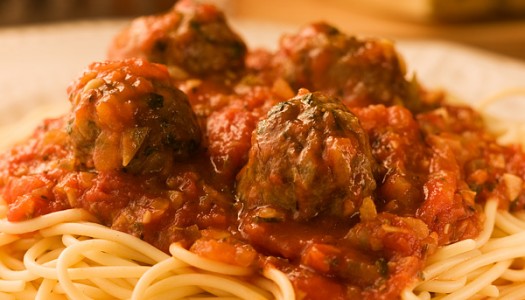 7 years ago
There's nothing more satisfying than a bowl full of spaghetti and meatballs and my gold standard tomato sauce. Every cook has an all-purpose tomato sauce up his or her sleeve, a perfect last-minute pasta sauce that's just as good served without meatballs.
View Recipe
7 years ago
Short ribs are my favourite type of beef. No other cut has their rich beefiness and melt-in-your-mouth texture. Of course they do have to be slowly braised to release all that rich goodness, but that's just more time to anticipate the treat to come!
View Recipe