When you steam off a pile of mussels they release a hearty broth that forms the base of soups all over the world.
Yield: Makes 4 servings
Ingredients
3 lbs Mussels
3 cups water
1 tbsp Sriracha
1 pinch salt
1 spoonful sugar
1 lime Juice only
1 small bunch Cilantro (stems removed)
Procedure
Place mussels into a large pot with a tight fitting lid and add the water, Sriracha, salt and sugar. Cover with the lid and steam the mussels until they have all opened. Discard any unopened mussels. Squeeze in the limejuice and cilantro leaves just prior to serving.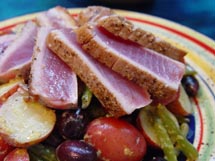 4 years ago
This ain't your typical tuna salad! A rosy tuna steak is quickly seared in a hot pan and thinly sliced before being put on display over a hearty potato and green bean salad.
View Recipe
8 years ago
Historically, fish cakes have been one of the most common ways to eat fish in the Maritime Provinces of Canada. Usually they were made with preserved salt cod, but today they're much tastier with fresh salmon. These crispy cakes are included with the gourmet breakfast served every morning at the beautiful 5-star Inn at Bay Fortune, nestled in Fortune Bay, Prince Edward Island - they are as easy to make as they are to enjoy!
View Recipe