When you steam off a pile of mussels they release a hearty broth that forms the base of soups all over the world.
Yield: Makes 4 servings
Ingredients
3 lbs Mussels
3 cups water
1 tbsp Sriracha
1 pinch salt
1 spoonful sugar
1 lime Juice only
1 small bunch Cilantro (stems removed)
Procedure
Place mussels into a large pot with a tight fitting lid and add the water, Sriracha, salt and sugar. Cover with the lid and steam the mussels until they have all opened. Discard any unopened mussels. Squeeze in the limejuice and cilantro leaves just prior to serving.
8 years ago
Fresh cultured blue mussels are easy to cook as well as being a healthy and easy meal option. They're quick and tasty and can be eaten right out of the pot or used in a variety of recipes. Before you start cooking, you should always give your mussels a quick rinse. Cultured blue mussels are pre-cleaned so that's really all you need to do. The fresh water will cause the mussels to close. If there are any that don't close give them a quick tap, if they still don't close at least partially, simply discard them.
View Recipe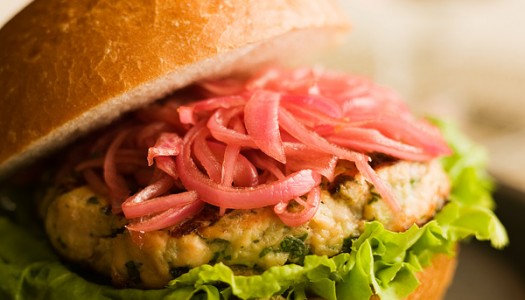 8 years ago
Who says burgers have to be made from meat? You'll be amazed at how easy these are to put together, and your guests will be impressed with how tasty they are. They're packed full of Asian-inspired flavour, a great way to jazz up your next barbecue excursion with something different and healthy.
View Recipe