Nothing says summer like a batch of warm freshly baked shortcakes drenched with fresh local strawberries and topped with whipped cream. This particular recipe for my gold standard shortcakes is surprisingly easy to make, all you really need to do is stir some cream into some flour and bake away. And there's lots of room for improv when you're making shortcake!
Yield: 12 average sized biscuits and 2 cups or so of whipped cream
Ingredients
For the nutmeg cream biscuits
4 cups (1 L) of all-purpose flour
1/4 cup (60 mL) of sugar
2 tablespoons (30 mL) of baking powder
1 tablespoons (15 mL) of ground nutmeg
1 teaspoon (5 mL) of fine salt
2 1/2 cups (625 mL) of whipping cream
1 teaspoon (5 mL) of pure vanilla extract
For the orange whipped cream
1 cup (250 mL) of whipping cream
1 tablespoon (15 mL) of white sugar, brown sugar or honey
1 tablespoon (15 mL) of Grand Marnier, Triple Sec or your favourite liqueur
1/2 teaspoon (3 mL) of pure vanilla extract
For the sweetened strawberries
2 quarts (2 L) of fresh local berries, halved
A few spoonfuls of white sugar or honey
Procedure
Preheat your oven to 450ºF (230ºC) degrees. Turn on your convection oven if you have one. Line a baking pan with a silicone baking mat or parchment paper.
Start by making the biscuits. In a large bowl, whisk together the flour, sugar, baking powder, nutmeg and salt. Pour in the cream and vanilla extract, and stir until it comes together and form a loose dough. Briefly knead by hand just until all the dry ingredients are incorporated and you can pick up the whole mass.
Turn the dough out onto a floured work surface. Pat it down by hand until it forms a rough disc about 1 inch thick. At this point you may simply cut the disc into wedges or you may use a set of biscuit cutters, a glass or a can to cut circles. You may also brush the tops with a bit of milk and lightly dust them with white sugar for a fancier look and a bit of crunchy texture.
Transfer the biscuits to the prepared baking pan. Bake until the biscuits have risen, are golden brown and are no longer doughy, about 12 minutes. Remove them from the oven and let them cool as long as you can stand it.
Next make the sweetened berries by tossing them with the sugar. Let rest for a few minutes or longer. The sugar will draw moisture from the berries and form a flavourful syrup.
Finally, make the orange whipped cream. Using a stand mixer, a hand mixer, or a whisk and a strong arm, whip together the cream, sweetener of your choice, liqueur of your choice, and vanilla extract until pillowy smooth and can just hold its shape, 3-5 minutes depending on the method.
To assemble the shortcakes, cut each biscuit in half horizontally and place on a serving plate. Generously pile on the strawberries on the bottom half and top with the other half of the biscuit. Scoop a big dollop of whipped cream on top. Serve and share!
Photo courtesy of Village Feast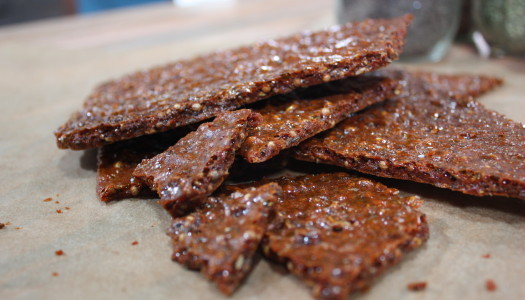 4 years ago
Spice up your snack life with this seedy, snappy brittle. Once you master the art and craft of making a homemade brittle, the possibilities are endless. Substitute other spices, stir in your favourite nuts or seeds, you can even you chopped up pretzels or cookies!
Making caramel is easy, but it does benefit from keeping a close eye. The sugar syrup might not look like it's doing much for a while but as soon as it starts changing colour, stay close to the stove. It can go from light yellow, to dark brown, to a smoking black mess in a matter of moments. It's also extremely hot, so exercise caution and keep it away from young fingers until it has completely cooled.
View Recipe
4 years ago
Can you make a butter tart taste like a pumpkin pie? Yes! These tarts evolved from basic butter tarts, but they've come so far that they're really more like little mini pumpkin pies. But does it really matter where they came from? It's where they're heading that counts. In this case, your table!
View Recipe