From Family Meals, 2014
Is your family in the sandwich business? A soft tortilla wrap is just as easy a sandwich start as a slice of bread and a great way to pack a lunchbox. If you want to make it even easier, let your grocer do the heavy lifting and just toss a rotisserie chicken into your cart!
Yield: 4 to 6 large wraps
Ingredients
For the dressing
The zest and juice of 1 juicy lemon
2 tablespoons (30 mL) of olive oil
1 tablespoon (15 mL) of honey
1 tablespoon (15 mL) of your favourite mustard
1/4 teaspoon (1 mL) of salt
A few turns of your pepper grinder
For the wrap
1 rotisserie chicken, hot or chilled
2 avocados, peeled and cubed
1 pint (500 mL) of cherry tomatoes, halved
Leaves from 1 bunch of fresh basil
4 to 6 large soft tortillas
Procedure
Whisk the dressing ingredients together in a medium bowl until smooth. Use your hands or a pair of forks to pull the chicken meat from the bones and shred it into bite-size pieces. Add to the bowl along with the avocados, tomatoes and basil. Gently toss the works together.
Ready the tortillas by briefly microwaving them until soft and pliable, 30 seconds or so. Arrange the tortillas on your work surface. Place a scoop of chicken salad just below the "equator" of each. Fold the bottom of the tortilla over the filling, fold in the sides, then finish rolling. Serve and share!
© Chef Michael Smith, Family Meals, 2014
8 years ago
Few things in your kitchen are as simple as grilling a few chicken breasts and topping them with simple flavours. It's a basic method, which always inspires improvisation as you create your own toppings with your favourite flavours.
View Recipe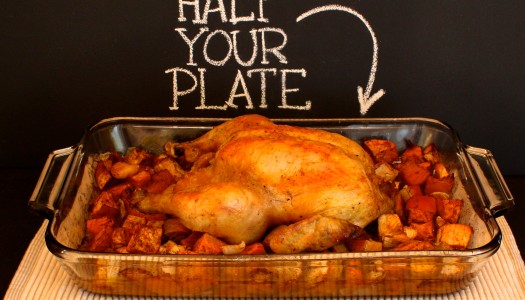 3 years ago
There are as many ways to roast a chicken as there are cooks. This basic method is my favourite. Roasting the chicken perched on top of a thick bed of vegetables not only helps you prepare an entire meal at once but also guarantees that not a drop of flavour is lost. You can also skip all the normal laborious of slicing by simply shredding the meat into the works and tossing together a pan stew of sorts!
View Recipe