From Family Meals, 2014
Is your family in the sandwich business? A soft tortilla wrap is just as easy a sandwich start as a slice of bread and a great way to pack a lunchbox. If you want to make it even easier, let your grocer do the heavy lifting and just toss a rotisserie chicken into your cart!
Yield: 4 to 6 large wraps
Ingredients
For the dressing
The zest and juice of 1 juicy lemon
2 tablespoons (30 mL) of olive oil
1 tablespoon (15 mL) of honey
1 tablespoon (15 mL) of your favourite mustard
1/4 teaspoon (1 mL) of salt
A few turns of your pepper grinder
For the wrap
1 rotisserie chicken, hot or chilled
2 avocados, peeled and cubed
1 pint (500 mL) of cherry tomatoes, halved
Leaves from 1 bunch of fresh basil
4 to 6 large soft tortillas
Procedure
Whisk the dressing ingredients together in a medium bowl until smooth. Use your hands or a pair of forks to pull the chicken meat from the bones and shred it into bite-size pieces. Add to the bowl along with the avocados, tomatoes and basil. Gently toss the works together.
Ready the tortillas by briefly microwaving them until soft and pliable, 30 seconds or so. Arrange the tortillas on your work surface. Place a scoop of chicken salad just below the "equator" of each. Fold the bottom of the tortilla over the filling, fold in the sides, then finish rolling. Serve and share!
© Chef Michael Smith, Family Meals, 2014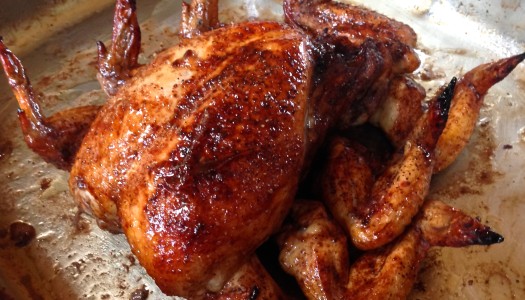 4 years ago
Thrills and chills will abound when you present this chicken to your little ghouls, ghosts and goblins. You'll feel like Dr. Frankenstein putting together your very own monstrous creation, and you'll feel good fuelling your family for an evening of trick-or-treating fun with this simple roasted spider, I mean chicken.
To turn this into a full meal deal, you can roast the chicken over a bed of root vegetables. Cubes of potatoes or carrots, thick slices of onions or whole cloves of garlic are all fair game. They'll soak up the tasty juices that drip off the chicken and give you a complete meal in one pan.
View Recipe
7 years ago
Sometimes the best thing you can do in a kitchen is get out and go for the grill. Here's how to create a simple bed of grilled goodness to anchor a warm salad. All with an easy twist to create a double duty marinade/dressing and jazz it all up.
View Recipe