Pork tenderloin is a very tender and versatile meat that easily absorbs whatever flavour you're in the mood for, like orange mustard marinade. It's perfect for your grill!
Yield: serves 4
Ingredients
2 pork tenderloins
1/2 cup frozen orange juice concentrate
1/2 cup grainy mustard
1 or 2 sprinkles sea salt and freshly ground pepper
Procedure
Whisk the orange juice concentrate and mustard together. Season the pork tenderloins, pour the marinade over them and marinate for a few hours, or even overnight.
Preheat your barbecue to its highest setting.
Grill the tenderloins for 10 minutes or so on each side, until a meat thermometer inserted into the thickest part reads 155 °F (68 °C). Let rest for 5 or 10 minutes before slicing.
Variation
You can add some personalized flavour to the marinade with the spice of your choice. Ground cumin, coriander, ginger, chili powder and curry powder are all excellent choices. Instead of grilling feel free to roast this pork loin in a 400 °F (200 °C) oven for 20 minutes.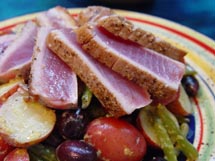 3 years ago
This ain't your typical tuna salad! A rosy tuna steak is quickly seared in a hot pan and thinly sliced before being put on display over a hearty potato and green bean salad.
View Recipe
3 years ago
Eggs are one of the most versatile ingredients in your kitchen. It lets you get food to your family in a hurry without sacrificing flavour. With carbonara, you harness the power of the egg yolk for a quick pasta fix. You can have this dish ready in the time it takes to boil water and cook pasta. The heat from the freshly cooked pasta will thicken the egg yolk in the sauce at the last moment. You'll be amazed at how something to simple and so speedy can be so tasty.
View Recipe