Pork tenderloin is a very tender and versatile meat that easily absorbs whatever flavour you're in the mood for, like orange mustard marinade. It's perfect for your grill!
Yield: serves 4
Ingredients
2 pork tenderloins
1/2 cup frozen orange juice concentrate
1/2 cup grainy mustard
1 or 2 sprinkles sea salt and freshly ground pepper
Procedure
Whisk the orange juice concentrate and mustard together. Season the pork tenderloins, pour the marinade over them and marinate for a few hours, or even overnight.
Preheat your barbecue to its highest setting.
Grill the tenderloins for 10 minutes or so on each side, until a meat thermometer inserted into the thickest part reads 155 °F (68 °C). Let rest for 5 or 10 minutes before slicing.
Variation
You can add some personalized flavour to the marinade with the spice of your choice. Ground cumin, coriander, ginger, chili powder and curry powder are all excellent choices. Instead of grilling feel free to roast this pork loin in a 400 °F (200 °C) oven for 20 minutes.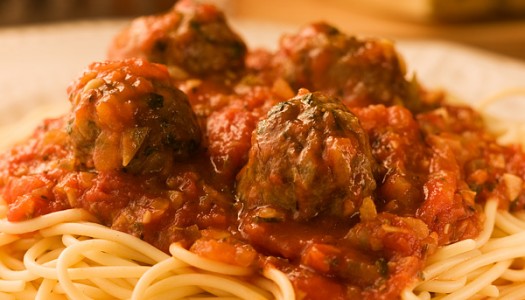 7 years ago
There's nothing more satisfying than a bowl full of spaghetti and meatballs and my gold standard tomato sauce. Every cook has an all-purpose tomato sauce up his or her sleeve, a perfect last-minute pasta sauce that's just as good served without meatballs.
View Recipe
3 years ago
This traditional tapas bar snack is sometimes served between two slices of rustic crusty bread. It's just as delicious served plain. Either way, the bright pickled tomatoes steal the show. This is the sort of dish you'll quickly come to crave.
Looking for more simple and delicious recipes to make for breakfast, school lunches, and weekday dinners when you are short on time? Check out my latest cookbook, Family Meals, for 99 more recipes that will help make mealtime fun and get your family involved in the kitchen.
View Recipe