A recipe is merely words on paper; a guideline, a starting point from which to improvise. It cannot pretend to replace the practiced hand and telling glance of a watchful cook. For that reason feel free to stir your own ideas into this dish. When you cook it once, it becomes yours, so personalize it a bit. Add more of an ingredient you like or less of something you don't like. Try substituting one ingredient for another. Remember words have no flavour, you have to add your own!
Yield: 4
Ingredients
2 large lobsters
1 cup 35% cream
1-28 ounce can crushed tomatoes
1-750 ml bottle white wine
2 onions chopped
4 cloves garlic
1 tablespoon prepared horseradish
2 bay leaves
Salt and Pepper
1 box penne pasta
Procedure
Put a large pot over high heat and add about 2 cups of water. Bring to a boil and add the lobsters. Cover and let steam for about 8 minutes per pound. When they are done, remove the meat from the tail, knuckles and claws and reserve.
Smash the shells with the back of a knife or with a hammer (wrapping the shells in a kitchen towel reduces splatter). Put them into a large saucepot and add the cream, tomatoes, wine, onions, garlic and bay leaves.
Simmer for 1.5 hours, until the liquid has reduced by half and is reddish brown in colour.
Strain the sauce into a clean pot and add the horseradish. Check for seasoning and add salt and pepper to taste.
Serve the sauce with the reserved lobster.
As seen on Chef at Home
8 years ago
Usually when you're cooking a whole chicken, the focus is on the crispy skin, but what if the goal is deeply flavoured moist chicken meat instead? Baking in a tightly covered pot is the answer. It also happens to be one of the simplest ways to cook a chicken, and the tastiest because this covered cooking method makes lots of true, concentrated chicken flavor.
View Recipe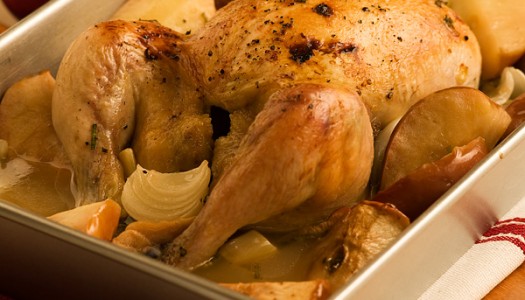 8 years ago
A perfectly roasted chicken is the essence of home cooking, especially when the chicken and its fixings are raised responsibly on a nearby farm. In the fall my family really enjoys this aromatic dish. As the chicken roasts, the apples "melt" and form a tasty rustic pan stew that is perfect tossed with the roast chicken. This is a very easy way to cook and serve a chicken.
View Recipe