#HalfYourPlate
Anytime I fire up my grill for supper I always look for a veggie to add to the works because grilling is not just for meat. Firm, juicy zucchini is an ideal candidate. This simple dish also shows how easily you can adapt the classic flavours of salsa to just about any fruit. Try it; you just might discover that you prefer peaches to tomatoes in your salsa!
Yield: Serves 4 to 6
Ingredients
For the salsa
4 fresh, ripe peaches, diced
1/2 red onion, finely chopped
1 jalapeno, seeds and stems remove and finely chopped
A handful of cilantro, leaves and tender stems, finely chopped
The zest and juice of 1 lime
1/4 teaspoon (1 mL) of salt
For the grill
4 to 6 pork chops, your favourite cut
2 to 3 average fresh summer zucchini, cut in half lengthwise
2 tablespoon (30 mL) of olive oil
3/4 teaspoon (4 mL) of salt
Lots of freshly ground pepper
Procedure
Prepare and preheat your grill to the highest setting.
Start by making the peach salsa. In a bowl, gently toss together the peaches, red onion, jalapeno, cilantro, lime zest and juice and salt.
Get ready to grill. Lightly oil both the pork chops and zucchini halves. Season them lightly with salt and pepper.
Start the zucchinis on the grill first. After a few minutes of cooking, add the pork chops. Cook, flipping everything once, until the pork is cooked through and the zucchini is tender, about 10 minutes. Serve and share each pork chop with a generous scoop of peach salsa and a half zucchini.
© Chef Michael Smith
3 years ago
Sweet potatoes are a superfood. They've earned this title by being so packed with nutrients, ounce for ounce, that they're just plain nutritionally dense. Quite simply, they're one of the single healthiest foods you can bring to your table. Tasty and easy too. Especially with the bright flavours of curry and ease of canned chickpeas. For this recipe simply toss everything together, toss into the oven, then sit back and wait for the compliments!
View Recipe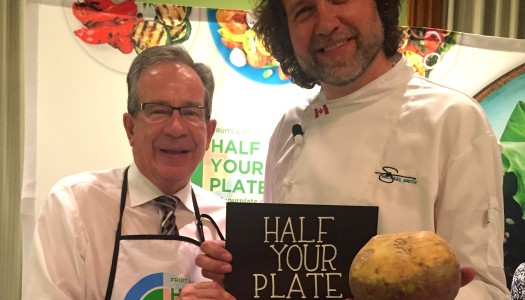 3 years ago
One of the best ways to fill Half Your Plate (and all of your soup bowl) is with a simple pureed soup. They're a time-honoured and super-simple way to get a whole lot of vegetable flavour on the table in a hurry – maybe even hide vegetables from finicky eaters. This one was custom created by Honourable Jeff Leal with Chef Michael Smith's coaching!
View Recipe