This is one of my favourite side dishes because bacon and lentils are perfect together. The rich meatiness of bacon easily complements the earthy hearty flavours of lentils. Try making this dish once and it will instantly become one of your favourites too!
Yield: 4-6 servings
Ingredients
8 slices of bacon, thinly sliced
A big splash of water
1 large onion, minced
2 stalks of celery, chopped
2 carrots, peeled and thinly sliced
4 cloves of garlic, thinly sliced
1 cup of green lentils
3 cups of water
1/2 teaspoon of salt
1 bay leaf
1 teaspoon of any vinegar or the juice of half a lemon
1 tablespoon of fresh tarragon, chopped
Procedure
Place your favourite saucepan over medium-high heat. Toss in the bacon then pour in enough water to just barely cover it. Stir frequently with a wooden spoon. As the water simmers the bacon will begin to cook. Then as the water evaporates the bacon will render, releasing its fat, and will crisp as the fat left behind heats past the boiling point of water into the flavour zone. Stir and be patient, it is worth getting every piece evenly crisped, about five or six minutes. If you like, pour off half or so of the bacon drippings.
Toss in the carrots, onions, celery, and garlic and continue cooking, stirring until the veggies are heated through and their flavour brightens, two to three minutes.
Stir in the lentils, water, salt, and bay leaf. Bring the works to a full boil then lower the heat, adjusting it so the liquid is barely simmering. Simmer until the lentils are tender and most of the water has been absorbed, about 20 minutes or so. Stir in the lemon juice and tarragon, serve and share!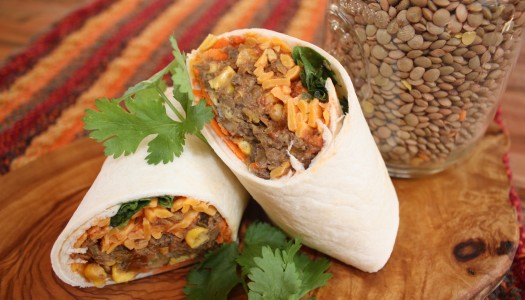 5 years ago
My kids love these burritos but they don't know why. I do though. Lentils are flavour sponges. Lentils do such a good job absorbing the bright sunny flavours of the southwest that no one notices the missing **** in this burrito. They notice the crisp smoky bacon though!
View Recipe
8 years ago
In the Maritimes we don't worry whether our chowders are authentic or not. We know a true clam chowder is just a bowl full of simple, hearty flavours. We often use canned clams and always stir in onions, potatoes and milk. We're too busy asking for seconds to worry whether we got it right!
View Recipe