Hummus is perhaps the world's greatest dip. It's unparalleled for addictive avor, smooth texture, nutritional value and the all-important functionality factor. With a batch of hummus ready, you can really release your creative juices. Try it on your favorite crackers, flatbreads or chips. Then top with smoked salmon, various charcuterie, even just plain sprinkled with green onions or giant dill sprigs.
Yield: MAKES 2 1/2 CUPS (625 ML), EASILY DOUBLED OR TRIPLED
Ingredients
1 tablespoon (15 mL) of cumin seeds
1 tablespoon (15 mL) of coriander seeds
2 large carrots, grated
2 garlic cloves, smashed
1 cup (250 mL) of orange juice
1 tablespoon (15 mL) of curry powder
1⁄2 teaspoon (2 mL) of salt
A 19-ounce (540 mL) can of chickpeas, drained and well rinsed
1⁄2 cup (125 mL) of tahini
1⁄4 cup (60 mL) of your very best olive oil
1 teaspoon (5 mL) or more of your favorite hot sauce
The zest and juice of 1 lemon
A mess of vegetables, crackers, chips or other dippers
Procedure
Gently toast the cumin and coriander seeds in a small dry pot over medium heat, shaking and shivering until lightly toasted and deliciously fragrant, 2 or 3 minutes. Add the carrots, garlic, orange juice, curry powder and salt. Bring to a simmer, cover and cook until the carrots are tender, about 15 minutes.
Carefully pour the hot mixture into a blender or food processor. Add the chickpeas, tahini, olive oil, hot sauce, and lemon zest and juice. Blend
until smooth. Add a splash or two or more of water if you prefer a thinner consistency or to get the works going. Smooth into a festive bowl and serve with veggies or other dippers.
STORAGE TIP
Refrigerate: Tightly seal and refrigerate for up to 7 days.
Freeze: Tightly seal and freeze for up to 30 days. Thaw in the refrigerator for 1 or 2 days. Tightly seal leftovers and store in the refrigerator for just a few days.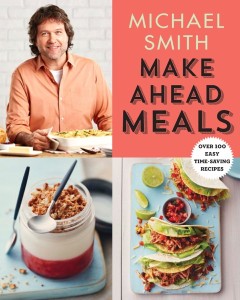 From Make Ahead Meals Copyright © Michael Smith 2015. Reprinted by permission of Penguin Canada, a division of Penguin Random House Canada Limited.
2 years ago
Italian cooking is a lot more than just pasta, pizza and tomatoes. In the ancient walled city of Norcia, Umbrian lentils & sausage is on every menu. Its rustic simplicity includes some of the best loved flavours of Italy. Italians are extraordinarily passionate about their local ingredients, so it's no wonder this famous dish highlights lentils and sausage. It comes from the hills of Umbria, where heritage pigs roam the land and pasta plays second fiddle to locally grown lentils.
View Recipe
3 years ago
Sweet potatoes are a superfood. They've earned this title by being so packed with nutrients, ounce for ounce, that they're just plain nutritionally dense. Quite simply, they're one of the single healthiest foods you can bring to your table. Tasty and easy too. Especially with the bright flavours of curry and ease of canned chickpeas. For this recipe simply toss everything together, toss into the oven, then sit back and wait for the compliments!
View Recipe