© Chef Michael Smith 2017
Kiwi's unique sweet and sour flavour makes it a favourite of fruit-lovers everywhere and a great choice for a simple snack. Those same flavours also make it ideal for anchoring savoury condiments like this salsa. Here it's paired with an equally simple salmon but it's just as tasty with any grilled meat or other fish. Whatever you top you'll love how simple it is fill Half Your Plate with this brightly flavoured salsa!
Yield: Makes enough for 4 with lots of delicious leftover salsa
Ingredients

For the salsa
6 kiwi, diced
1 red bell pepper, seeded and diced
1 jalapeno, seeds and stem removed, minced
1 lime, zested and juiced
4 green onions, thinly sliced
a handful of cilantro leaves and tender stems, chopped 1 tablespoon of olive oil
1/2 teaspoon of salt

For the salmon
4 salmon filets
1/2 cup of cornmeal
1 tablespoon of chili powder 1 teaspoon of salt
vegetable oil
Procedure

Begin with the salsa. Simply stir all the ingredients together and reserve while you make the rest of the meal. As with any salsa it will taste better the next day if you have time to wait!

For the salmon whisk together the cornmeal, chili powder and salt. Dredge the salmon filets in the mixture until evenly coated. Meanwhile preheat a large sauté pan over medium high heat with a splash of any vegetable oil. Carefully add the filets to the sizzling pan and pan roast, flipping once or twice until done, about 10 minutes. If you have a lid for the pan use it to trap heat and speed up the fish. Serve and share with lots of kiwi salsa and the vegetables-of-the-day.
Variation

Kiwis do not need to be peeled. You can of course but you don't have to, the skin is just as edible as any other tree-fruits skin. My kids eat them that way all the time!
This recipe: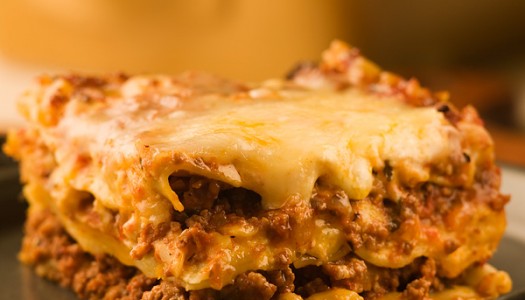 7 years ago
The best lasagna is made with two different sauces: a tomato sauce and a cheese sauce. It's the sort of dish that's worth taking the time to make it right, but that doesn't mean you have to slave away in the kitchen for hours. There are lots of ways to speed up the process and still enjoy spectacular results!
View Recipe
6 years ago
When tandoori is on the menu its always a good idea to cut the chicken into small pieces so that it will cook as quickly as possible in a searing hot oven.
View Recipe