This brightly flavoured condiment traditionally highlights the delicate flavours of fish with the energetic punch of sharp horseradish and bright lemon. Try it. You'll forget you ever met its bland, sugar-laden, store-bought cousins.
Yield: Makes 1 large jar, 4 cups
Ingredients
1 28 ounce can whole ripe tomatoes
1 5.5 ounce can tomato paste
several large heaping spoonfuls horseradish
2 lemons, zest and juice
2 tablespoons Worcestershire sauce
as much as you like Tabasco Sauce
a sprinkle or two salt
Procedure
Blend everything in a food processor or blender. Not too smooth though; leave it slightly chunky.
Variation
Unless it's tomato season in my backyard, I prefer the field-ripe flavour of canned tomatoes to the bland hardness of their fresh cousins. For a touch of complementary herb flavour, add a handful of minced fresh dill, cilantro or basil.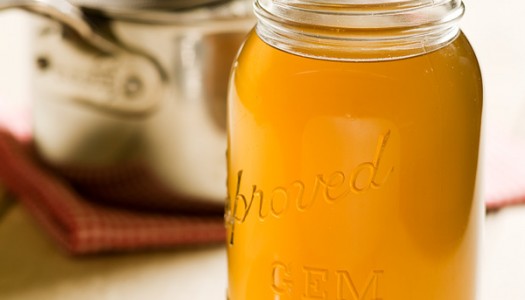 7 years ago
A pot full of simmering chicken broth is the essence of home cooking: true flavour brimming with hearty goodness, ready to launch a thousand other dishes. Try making a batch, dividing it into easily used amounts and keeping them in your freezer, ready for whatever idea comes along. You can use any chicken, but a stewing hen will have the most flavour.
View Recipe
7 years ago
Nothing is simpler, tastier and healthier than a bowl layered full of happy homemade salad; especially when it's tossed with a few twists, including your own secret "house dressing."
View Recipe