This brightly flavoured condiment traditionally highlights the delicate flavours of fish with the energetic punch of sharp horseradish and bright lemon. Try it. You'll forget you ever met its bland, sugar-laden, store-bought cousins.
Yield: Makes 1 large jar, 4 cups
Ingredients
1 28 ounce can whole ripe tomatoes
1 5.5 ounce can tomato paste
several large heaping spoonfuls horseradish
2 lemons, zest and juice
2 tablespoons Worcestershire sauce
as much as you like Tabasco Sauce
a sprinkle or two salt
Procedure
Blend everything in a food processor or blender. Not too smooth though; leave it slightly chunky.
Variation
Unless it's tomato season in my backyard, I prefer the field-ripe flavour of canned tomatoes to the bland hardness of their fresh cousins. For a touch of complementary herb flavour, add a handful of minced fresh dill, cilantro or basil.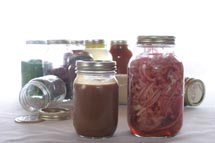 8 years ago
These tasty onions lose all their pungency in the pickling process but gain a sweet sharpness that makes them a great last minute addition to any salad. They're a multi-purpose condiment and are delicious with any type of fish.
View Recipe
8 years ago
Commercial chocolate sauces are a pale imitation of the real thing and usually don't include any real chocolate. An old-school batch of real chocolate sauce is easy to make, easy to use and an easy way to saturate any treat with lots of rich, true, chocolate flavour. Try not to eat too much of this sauce straight out of the jar!
View Recipe