This brightly flavoured condiment traditionally highlights the delicate flavours of fish with the energetic punch of sharp horseradish and bright lemon. Try it. You'll forget you ever met its bland, sugar-laden, store-bought cousins.
Yield: Makes 1 large jar, 4 cups
Ingredients
1 28 ounce can whole ripe tomatoes
1 5.5 ounce can tomato paste
several large heaping spoonfuls horseradish
2 lemons, zest and juice
2 tablespoons Worcestershire sauce
as much as you like Tabasco Sauce
a sprinkle or two salt
Procedure
Blend everything in a food processor or blender. Not too smooth though; leave it slightly chunky.
Variation
Unless it's tomato season in my backyard, I prefer the field-ripe flavour of canned tomatoes to the bland hardness of their fresh cousins. For a touch of complementary herb flavour, add a handful of minced fresh dill, cilantro or basil.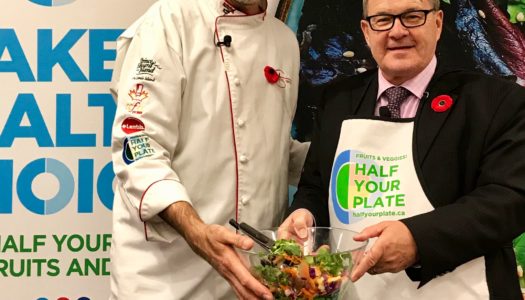 1 year ago
You can fill more than Half Your Plate and create your own salad with this recipe. Chefs know that the art and craft of filling a salad bowl is one of the greatest expressions of the culinary arts. Home cooks love how easy it is to cram the salad bowl with healthy flavours. Everyone enjoys emptying the bowl. You'll love knowing you have plenty of delicious dressing leftover for the next salad and nothing beats impressing yourself in your own kitchen! This one was custom created by Honorable Lawrence MacAulay with Chef Michael Smith's coaching!
View Recipe