All root vegetables are perfect for making soup because they're all full of hearty flavour and soften easily as they simmer. One of my favourites is celery root, which isn't actually the root of the celery you see in the store. This variety is bred specifically for its roots instead of the stalks, making them sweet and distinct, with an earthy flavour not unlike celery.
Yield: 4 servings
Ingredients
1/4 cup (60 mL) of butter
2 large onions, chopped
1 head of garlic cloves, chopped
2 large celery roots, peeled and chopped
6 cups (1.5 L) of good quality chicken broth or water
3 or 4 sprigs of fresh thyme, leaves and tender stems chopped
1/2 teaspoon (2 mL) of salt
Procedure
In a medium saucepan, melt the butter over medium heat. Toss in the onions and garlic and sauté until golden and delicious, a few minutes. Add the celery root, chicken broth, thyme and salt. Bring the works to a slow patient simmer than continue cooking until the celery root is tender, about 20 minutes. Leave the soup chunky for a rustic texture or purée smooth with an immersion blender. For an extra velvety texture, strain through a fine mesh strainer. Ladle into bowls and share.
© Chef Michael Smith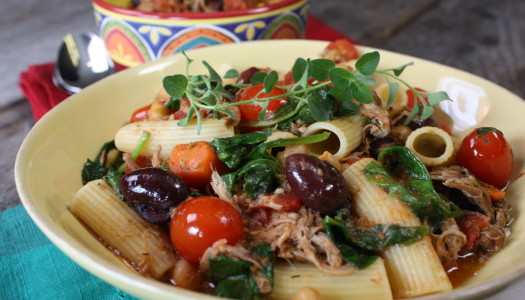 3 years ago
Sometimes it's just as easy to make a lot as a little. Here's how to stew and transform one pork shoulder into two different flavoured meals. You can spend time to save time and avoid the dreaded "same old thing" blues by splitting the works into two meals!
View Recipe
7 years ago
You can easily fit the kid-friendly flavours of a pizza into a soup bowl. This easy-to-make soup is always a hit at our table.
View Recipe