Yield: Dinner for 4
Ingredients
4 tablespoons vegetable oil
4 lamb shanks
4 carrots, peeled and chopped
2 stalks celery, chopped
2 onions, peeled and chopped
1 litre apple cider
2 cups raisins
1 tablespoon cinnamon
4 bay leaves
2 crisp apples, cored and chunked
Salt and Pepper
1 rib celery, sliced
1 carrot, peeled and sliced
1 apple, cored and chunked
Procedure
Heat a heavy bottomed stew pot over medium high heat and add oil. When it begins to smoke, add lamb shanks and brown until they are a deep golden colour on all sides. Remove from pan and rest on a plate.
Drain excess fat from pot, then return the shanks to the pot. Add carrots, celery, onions, apple cider, raisins, cinnamon, bay leaves, and the apples. Season with salt and pepper and bring to a simmer. Cover tightly and braise for 1.5 to 2 hours, until meat is very tender and almost falling off the bone. Add sliced celery, carrot and apple during the last 15 minutes of cooking.
4 years ago
A rack of lamb is a great special occasion dinner. Too bad each chop only gets a thin crust of aromatic topping. To maximize the flavour potential, use individual lamb chops that can each be thickly encased with a crust. Mint and lamb are one of the great classic flavour combinations, and the edamame provides vibrant colour and protective moisture for the delicate mint while in the oven.
View Recipe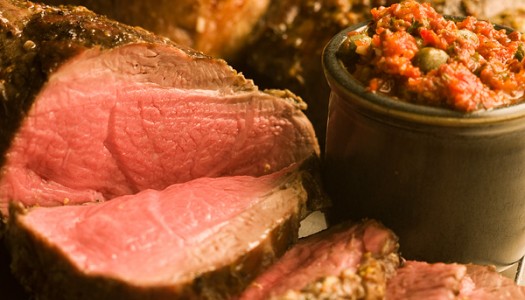 8 years ago
The sunny flavours of the Mediterranean and the flavour of a live wood fire in my backyard make this one of my favourite ways to serve lamb. It's a great excuse to fire up your grill any time of year. Both the marinade and the tapenade are wonderful with any type of meat or fish.
View Recipe