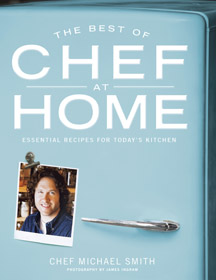 Buy from Amazon
The Best of Chef at Home
On top of the list is a brand new cookbook, The Best of Chef at Home. I'm thrilled, proud and humbled to share it with you. It's a gorgeous book, packed with real recipes and great photos. I'm still in the 'pinch me, I'm dreaming' stage and can't believe it's mine. It's just starting to show up on bookstore shelves across Canada, in fact the official national launch is this week on Prince Edward Island as part of our annual Fall Flavours harvest festival.
This is my fourth book and the second devoted to our series Chef at Home. The last book was written after just one season of the show, this one draws from all six. Think "Essential Recipes for Today's Kitchen." It's full of the genuinely useful stuff that we all need in a cookbook: pancakes, beef stew, chicken noodle soup, lasagna, salad dressings, vegetable ideas, after school snacks, apple pie and of course chocolate chip cookies. No foie gras. No fluff. Nothing but today's flavours.
As a chef I have an interesting relationship with cookbooks, I write them but I don't rely on them. I see them as more a reference resource than a guidebook. I may find ideas in them but unless I'm baking I rarely follow the recipes exactly as written. Over the years this has resulted in some spectacular successes and some dismal failures, lets just say no-one will ever forget the Roast Thai Curry Turkey. That's why this book is designed to be a launching point for your own freestyling kitchen adventures. Each recipe covers the basics you need but they also include lots of insight and freestyle suggestions so you can impress yourself in your own kitchen!