Mar 5, 2007 by Chef Michael
About a year ago, I became the national spokesperson for the Children's Emergency Foundation (CEF). Together, we are creating awareness as well as finding and funding solutions for childhood poverty and hunger across Canada.
The charity supports programs in every city in the country, helping to feed over 70,000 kids a day.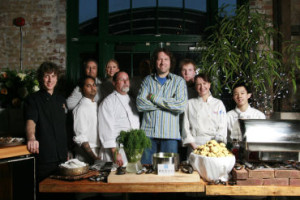 Recently I invited some of my fellow hosts from the Food Network to join me in hosting a fund-raising dinner on behalf of the CEF.  Christine Cushing, Anna Olson, Bob Blumer, Rob Rainford, Kevin Brauch all joined the cause. We came together at the Boiler House Restaurant in Toronto's historic Distillery District and did we ever have a good time!
Each of us hosted an 'action station' along with host Chef Jason Rosso.  A sold out crowd of 300 guests loved the opportunity to meet their favourite Food Network hosts and sample their wares.  It didn't hurt that each station also featured a Niagara winery graciously sharing their grapes! 20 Bees, Chateau des Charmes, Fielding Estate Winery, Henry of Pelham, Lailey Vineyards, Legends Estate Winery, Reif Estate Winery and StoneyRidge Estate Winery all joined the fun!
The Chefs and their DishesChristine made mini Moroccan spice-flavoured rotis and even brought along some of her famous Pure Olive Oil for everyone to taste.  Anna made dessert of course, although lots of people skipped dinner and visited her station first.  Her vanilla roast pineapple was a hit especially when it was drenched with just-made ice wine sabayon!
Bob filled an array of clever little wonton cones with a brightly flavoured Asian chicken salad.  He had lots of stories to tell from his adventures filming his new show "Glutton for Punishment." It turns out Bob is quite the competitor as you'll see on the show – it's going to be a hit!
Rob perfectly roasted duck breasts rubbed with five-spice then served a slice of tender duck on a crisp potato rösti with cherry compote. Rob is way more than just a 'grill' guy!
And Kevin can cook too!  He was the first to put a beer in my hand, but he also sautéed a huge pile of shrimp Andalusian style, with tomatoes and Spanish spices. I had never heard of Gambas Pilpil but I can't wait to have it again!
Host chef Jason was the star of the day. He and his team made the event flow flawlessly. It's not easy inviting that many chefs into your kitchen!  He even made his famous lobster chili – a real hit with the crowd.
Me?  I just made chowder.  I couldn't resist showing off my maritime roots so I simmered a huge pot full of lobster and mussels and switched out traditional potato using celery root instead. I've never done that before but it worked very well.  Of course, a tasty horseradish biscuit and watercress foam didn't hurt either. And just for kicks, Guinness World Record Oyster Shucker, Patrick McMurray, helped me out by topping each bowl with a fresh shucked bi-valve. Just a bowl of chowder!
Thank YouSpecial thanks to all the volunteers who made the event work. A few chef buddies of mine jumped in to help, Derek Mayes and Sam Glass, along with a brigade of student chefs from George Brown Chef's School. And without the support of the Food Network, we never would have filled the room.
The event went a long way towards raising awareness of the childhood poverty and hunger all around us. We also raised over $25,000! As Foundation President Jill McKinney said "So many people told me that if we ran our first event and didn't lose any money, we'd be doing very well.  That's a lot of money for us to raise and I can't wait to tell some of the programs on our waiting list that we will now be able to support them!"
For more information on the CEF, check out www.thecef.org